Violin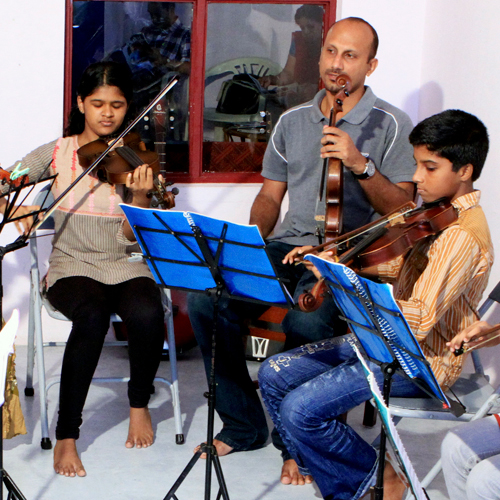 The violin is a string instrument, usually with four strings tuned in perfect fifths. It is the smallest, highest-pitched member of the violin family of string instruments, which includes the viola and cello.The violin is sometimes informally called a fiddle, regardless of the type of music played on it. The word violin comes from the Middle Latin word vitula, meaning stringed instrument; this word is also believed to be the source of the Germanic "fiddle".
Someone who plays the violin is called a violinist or a fiddler. The violinist produces sound by drawing a bow across one or more strings (which may be stopped by the fingers of the other hand to produce a full range of pitches), by plucking the strings (with either hand), or by a variety of other techniques. The violin is played by musicians in a wide variety of musical genres, including Baroque music, classical, jazz, folk music, rock and roll, and soft rock. The violin has come to be played in many non-Western music cultures all over the world.
The parts of a violin are usually made from different types of wood (although electric violins may not be made of wood at all, since their sound may not be dependent on specific acoustic characteristics of the instrument's construction), and it is usually strung with gut, Perlon or other synthetic, or steel strings.
Since 1986, about 5000 thousand students have received training in various branches of music and dance at Nadopasana. Currently, there are about 300 students enrolled in different classes. Accomplished teachers give training in Karnatak classical music, piano, organ, violin, guitar, and tabla. Students also receive lessons in such classical dance forms as Bharathanaatyam, Kuchippudi, Mohiniyaattam and folk dance. Nadopasana provides facilities for talented students to appear for the grade exams in piano, violin and organ conducted by the London Trinity College. The annual Talent Day celebrations, arangettam-s and other stage programs at different institutions provide the students with ample avenues to showcase their talents in front of a variety of audiences.