Guitar & Tabala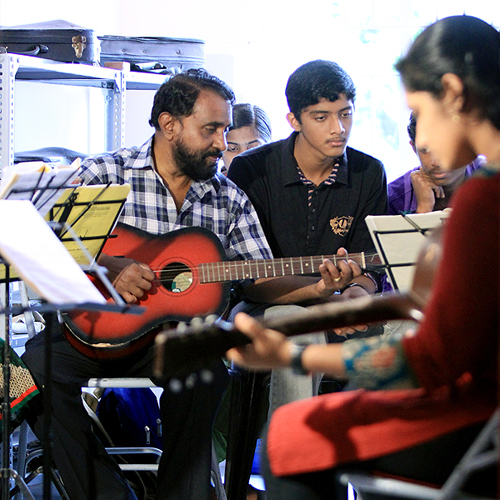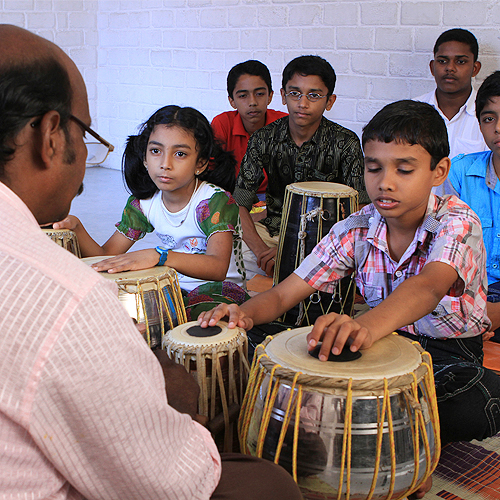 Guitar is a popular musical instrument that makes sound by the playing of its six strings with the sound being projected either acoustically or through electrical amplification. It is typically played by strumming or plucking the strings with the right hand while fretting the strings with the left hand. The guitar is a type of chordophone, traditionally constructed from wood and strung with either nylon or steel strings and distinguished from other chordophones by its construction and tuning. The modern guitar was preceded by the lute, the vihuela, the four-course Renaissance guitar, and the five-course baroque guitar, all of which contributed to the development of the modern six-string instrument.
The tabla is a membranophone percussion instrument, which are often used in Hindustani classical music, invented by the Indian Sufi saint Amir Khusro. It is still used in the music behind folk and sufi poetry. It later became a part of Hindustani music industry. The instrument consists of a pair of hand drums of contrasting sizes and timbres. The term tabla is derived from an Arabic word, tabl, which simply means "drum".The tabla is used in some other Asian musical traditions outside of India, such as in the Indonesian dangdut genre.
Playing technique involves extensive use of the fingers and palms in various configurations to create a wide variety of different sounds, reflected in the mnemonic syllables. The heel of the hand is used to apply pressure or in a sliding motion on the larger drum so that the pitch is changed during the sound's decay.
Since 1986, about 5000 thousand students have received training in various branches of music and dance at Nadopasana. Currently, there are about 300 students enrolled in different classes. Accomplished teachers give training in Karnatak classical music, piano, organ, violin, guitar, and tabla. Students also receive lessons in such classical dance forms as Bharathanaatyam, Kuchippudi, Mohiniyaattam and folk dance. Nadopasana provides facilities for talented students to appear for the grade exams in piano, violin and organ conducted by the London Trinity College. The annual Talent Day celebrations, arangettam-s and other stage programs at different institutions provide the students with ample avenues to showcase their talents in front of a variety of audiences.