Kuchippudi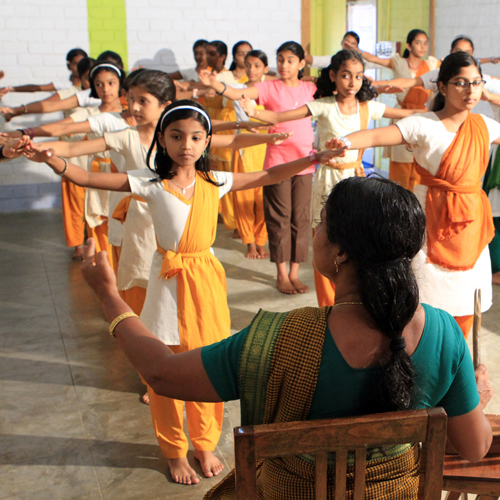 Kuchipudi is a Classical Indian dancefrom Andhra Pradesh, India. It is also popular all over South India.Kuchipudi is the name of a village in the Divi Taluka of Krishna districtthat borders the Bay of Bengal and with resident Brahmins practicing this traditional dance form, it acquired the present name.
The performance usually begins with some stage rites, after which each of the character comes on to the stage and introduces him/herself with a dharavu (a small composition of both song and dance) to introduce the identity, set the mood, of the character in the drama. The drama then begins. The dance is accompanied by song which is typically Carnatic music. The singer is accompanied by mridangam (a classical South Indian percussion instrument), violin, flute and the tambura (a drone instrument with strings which are plucked). Ornaments worn by the artists are generally made of a light weight wood called Boorugu.It originated in the seventh century.
Bharat Muni who wrote the Natya Shastra about 3000 years ago had explained various aspects of this dance form. Later sometime in the 13th century, the impetus to kuchipudi was given by Sidhendra Yogi.Siddhendra Yogi redefined the dance form. Siddhendra Yogi's former name was Siddhappa who was an orphan Brahmin.
Kuchipudi dancers are quicksilver and scintillating, rounded and fleet-footed, they perform with grace and fluid movements. Performed to classical Carnatic music, it shares many common elements withBharatanatyam. In its solo exposition Kuchipudi numbers include 'jatiswaram' and 'tillana' whereas in nrityam it has several lyrical compositions reflecting the desire of a devotee to merge with God.In an era of the degeneration of dance due to exploitation of female dancers, an ascetic, Beyond the stylistic differences of Kuchipudi and Bharatanatyam steps, there are certain types of dances that are unique to Kuchipudi: Specifically there is the Tarangam which is unique in that t plate with two diyas (small oil-burning candles) in his or her hands while balancing a "kindi" (small vessel) containing water.
The dance styles in the state are based on the standard treatises, Abhinaya Darpana and Bharatarnava of Nandikeshwara, which is sub-divided into Nattuva Mala and Natya Mala. Nattuva Mala is of two types — the Puja dance performed on the Balipitha in the temple and the Kalika dance performed in a Kalyana Mandapam. Natya Mala is of three kinds — ritual dance for gods, Kalika dance for intellectuals and Bhagavatam for common place. The Natya Mala is a dance-drama performed by a troupe, consisting only of men, who play feminine roles.