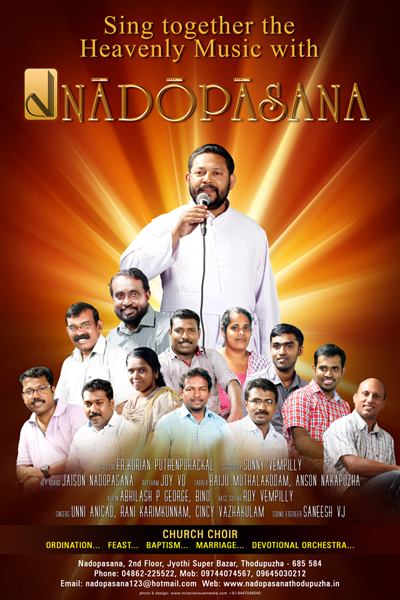 History
Since 1986 about 6000 students have received training in various branches of music and dance at Nadopasana. Currently, there are about 300 students enrolled in different classes. Accomplished teachers give training in Karnatak classical music, piano, organ, violin, guitar, and tabla. Students also receive lessons in such classical dance forms as Bharathanaatyam, Kuchippudi, Mohiniyaattam and folk dance. Nadopasana provides facilities for talented students to appear for the grade exams in piano, violin and organ conducted by the London Trinity College. The annual Talent Day celebrations, arangettam-s and other stage programs at different institutions provide the students with ample avenues to showcase their talents in front of a variety of audiences.
The inspiration for starting and naming Nadopasana came from Upasana, the premier cultural institution in Thodupuzha, founded by Fr. Albert Nambiaparambil, CMI. During construction of the commercial complex of Jyothi Super Bazar at the very heart of the town, Fr. Nambiaparambil convinced the members of the Carmel Monastery, Vazhakkulam to set apart a considerable amount of space for public service to the local community. Upasana and Nadopasana function at the prime space provided freely by the Monastery. The members and benefactors of Upasana and Nadopasana continue to draw their inspiration from the founding Fathers of the Carmelites of Mary Immaculate (CMI) who reached out to different communities in Kerala irrespective of caste, class or creed.
Fr. Joseph Palackal, CMI, while working as Dean of Studies at Kalabhavan, Kochi, proposed the idea of a new musical movement based in Thodupuzha, and started Nadopasana with the help of Sunny Vempillil, an accomplished musician and composer. Soon, Fr. Antony Urulianickal, CMI joined the team after his music studies at M. S. University, Baroda. The trio received unstinted support from Fr. Joachim Puzhakkara, CMI, Prior of Carmel Monastery, and Fr. Romeo Pattassery, CMI (1934-2011). Jerry Amaldev, the award-winning film music director, extended his whole hearted support. Initially, Sunny Vempillil's business office at Jyothi Super Bazar provided space for the meeting of minds and musical ideas, and became the birthplace of several compositions that set the tone and direction of Nadopasana.
Fr. Antony Urulianickal, CMI took charge as Director in 1987. His extraordinary talents as singer and composer became an asset to Nadopasana. Fr. Urulianickal added new dimensions to Nadopasana by starting music classes for guitar, violin and keyboard; he also embarked on an intense programme of composing Christian devotional songs for commercial releases. These songs carried the fame of Nadopasana beyond the boundaries of Kerala. Fr. Kurian Puthenpurackal, CMI, a singer and composer, served as Director from 2001 to 2008. With his excellent managerial skills, Fr. Kurian extended the activities of Nadopasana by starting dance classes; he also equipped the Nadopasana choir with a professional sound system and a modern keyboard. Fr. Urulianickal resumed directorship in May 2008 and continue to guide the manifold activities of Nadopasana, some of which are listed below. Since the beginning, Sunny Vempillil has been serving as Secretary, and Jaison Joseph as Officer-in-charge.

Promotion of the choral style of music is the trademark of Nadopasana. Nadopasana made its debut on July 16, 1986 with a solemn and spell-binding presentation of liturgical songs at the Carmel Monastery Church, Vazhakkulam. The occasion was the feast of Our Lady of Mount Carmel. The choir, which consisted of 70 singers and 3 musical instruments, under the direction of Fr. Joseph Palackal surprised the worshippers with the affective power of human voice in communal singing. That unforgettable experience set the tone for the future course of Nadopasana as a concept. The singers came together again to use the same idiom of choral singing for the celebration of India's Independence Day on August 15, and at the Pushpamela (flower show) at Thodupuzha on November 19, 1986. Encouraged by the public and the media response, and supported by such connoisseurs as Dr. Joseph Chazhikadan (1930-1998), Nadopasana presented a unique Christmas Spectacular on December 23, 1986, in which 300 singers and 50 dancers performed simultaneously on two sides of the same stage. This unprecedented programme changed for ever the musical landscape of Thodupuzha. The mission of promoting the choral style of singing continues today through the choir leaders who receive training at Nadopasana.

Nadopasana became an endearing name to parish priests and church choirs because of the free music training, on the first and third Sundays of every month. Singers come not only to learn songs, but also to learn about the place of vocal and instrumental music in liturgy, and how to sing the meaning of the texts according to the liturgical context. About ten thousand singers in the Thodupuzha, Idukki and Adimaly areas have already taken advantage of this programme. Also, in collaboration with the famous Rex Band, a committed Christian ensemble, Nadopasana organizes training camps and music retreats in churches and college campuses. With the experience gained through the conducting of such programmes, Nadopasana has been able to develop a syllabus for such camps and retreats.

Commercial releases of Christian liturgical and devotional songs became the carrier of Nadopasana's fame beyond the boundaries of Kerala and India. Nadopasana has produced more than twenty albums of Christian devotional songs. Some of these songs are currently in circulation among Kerala Christian communities around the world. Famous singers and lyric writers of Christian devotional songs in Malayalam have participated in these projects. Besides, Nadopasana contributes devotional and inspirational songs to Rex Band, Christeen and other Christian ensembles and retreat centers.
Cassettes and CDs (Spiritual Songs)
1. Patheya (1987)
2. Yagavediyil(1988)
3. Kudumbageethangal (1988 - I Edition)
4. Arathi (1992)
5. Thrikkaikalil(1994)
6. Thrikkaikalil (Kannada) (1995)
7. Thejas (1998)
8. Thrikkaikalil (Telugu) (2001)
9. Beliyekuvan (2006)
10. Kudumbageethangal (2012 - New Edition)